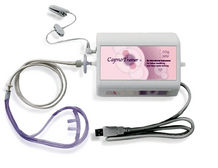 Evaluation
This is the first step. In the evaluation we learn about your breathing patterns, your symptoms, and how your breathing patterns affect your symptoms. We determine the right approach for you and decide together on a plan going forward. During the evaluation you will learn exercises to address the main symptoms. Many of our clients report:
Better sleep starting the first night
Dramatic reduction in asthma symptoms, number of attacks, and severity of attacks starting the first week
Improved productivity and reduction in absences from work
Improved performance in sport
The evaluation is done using a breakthrough technology, the CapnoTrainer®, for observing, evaluating, teaching, and learning breathing behavior.
Please download, fill and send me back the following forms prior to the evaluation: